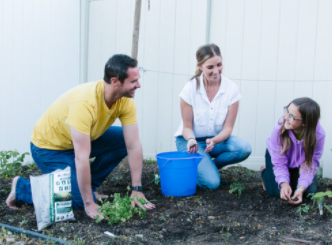 EDIBLE GARDENS ARE THE TALK OF THE TOWN
A healthy activity for the whole family!
Even though many lives, families, and businesses are facing challenges and uncertainties, I am hoping all is well with you and your families. We are seeing reports of strong sales from most retail and service companies in our industry. 
Here's an update and a few observations:
Our all-natural 100% Volcanic-Organic Cinderite soil amendment is more popular than ever. We have experienced a surge in first-time gardeners, but also inexperienced gardeners, growers, ranchers, and landscape contractors wanting to include or change to a natural organic program.
Edible gardens have increased dramatically in popularity and now gardening is considered a healthy activity for everyone in the family more now than ever. 

Gardening has provided a much needed "breath of fresh air" for those looking to get outside of the house and kids are having fun gardening and learning about nature. Garden Centers are reporting record-breaking sales and people are upgrading their gardens and landscapes.

Many people have gone from cooking to planting or adding homegrown vegetables and herbs to their cooking. Also, people are understanding that a strong immune system is a powerful defense against viruses and diseases.

At Cinderite, we are helping people achieve these results. The Fall season is expected to continue this trend with new vegetable gardens, adding color and improving landscapes, land, and plants.

Cinderite's media, web, videos, social media and daily interactions have dramatically increased and we thank you for your continued business and are working hard to help you maximize your garden's potential.

Please let us know how we can help you continue the Organic Garden Revolution!
Sincerely,
Andrew M. Lovett - CEO